Betsoft
BetSoft was established in 1999 and was originally based in the northern English town of Lytham St. Annes. These were relatively early days in the online gaming industry and Betsoft struggled initially to persuade enough online operators to use its services.
But its fortunes changed in the second half of the 2000s. As technology rapidly developed, both internet speed and computer capacity increased dramatically, making it possible to produce ever more advanced games and as casino operators looked for ways to take advantage of these changes, Betsoft sensed an opportunity.
The key to their success was the launch of the Slots3 series in 2008. This ground breaking series of games incorporated 3D graphics that would not have looked out of place in a Pixar movie, and they also featured a number of player-friendly bonus features which served to provide an even more immersive experience. Slots3 put Betsoft on the map and the company began to grow rapidly, linking up with online casinos all over the world.
A few years later, as the mobile gaming revolution gathered pace, Betsoft were once again at the forefront of technological advancement, as they launched their ToGo series. This series of games replicated the success of Slots3 for mobile devices, introducing iOS and Android users to the stunning graphics and bonuses that desktop Betsoft players already enjoyed.
Reading time: 5 minutes.

Choose a great NZ casino
Betsoft Features
In an industry saturated with game developers and online casinos, it can be hard for any game developer to stand out. In fact for fans of online gaming it can often seem as though many games are simply clones of similar titles. But Betsoft was able to make a big impact by focusing its efforts on producing technologically advanced games that embraced the latest in software technology, and the release of the Slots3 series was an important landmark in the growing online casino gaming industry.
The Slots3 games in the Betsoft catalogue offered a graphical quality that had not been previously been seen in any online title. The animation and presentation in these games featured a richness and attention to detail that was ground-breaking.
Another attractive feature of Betsoft titles is that they all incorporate a free-play element, allowing New Zealand players to try the games out for free at any Betsoft-powered casino, an option that is always welcomed by players who may want to see how a game plays before they commit to using real money.
Along with its popular slots titles Betsoft has also produced a number of casino applications including a back-office system that allows any casino using their games to customize the software to their preferences. It also offers casino operators the ability to track each player's activity at their casino, giving them the information they need to tailor their games, bonuses and promotions to maximise player satisfaction. It is this flexibility of Betsoft's software, along with its graphical quality that has made the company so popular with online casinos.
Betsoft games
The Betsoft range of games is full of attractively presented 3D titles along with a selection of table games such as American and European Roulette.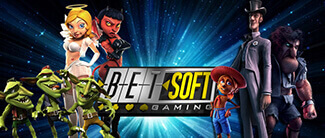 If there is one valid criticism of the gameplay experience with Betsoft games it is that the sound effects are not always as cutting edge and immersive as the graphics. Still, there is no doubt about the popularity of the Betsoft roster and New Zealand online gamers will be familiar with many of the leading Betsoft games including Royal Reels and Pharaoh King.
After Night Falls is another popular Betsoft title that has a reputation for being particularly player-friendly, with a range of winning opportunities including multiple free spins, collapsing wilds, bonus rounds and a big jackpot. New Zealand online players may also be familiar with At The Copa, a fun Latin-themed five-reel slot that is beautifully presented and features a progressive jackpot, free spins, stacked wilds and an entertaining bonus round.
Banking and Security
The ability to make quick and straightforward deposits and withdrawals is important for online casino players in New Zealand and the advantage of using a Betsoft casino is that their advanced software can handle a wide range of payment options. Players are able to use most popular credit cards, debit cards, Coinbase, PayPal, Skrill and Neteller and direct transfer and the banking transaction process is usually smooth and efficient.
Safety and fairness are also high on the list of priorities when choosing which casino games to play. Betsoft is licensed and regulated by Alderney, which has a reputation of being one of the most reputable casino regulating authorities in the world. The Betsoft platform is also regarded as one of the most reliable and secure in the online gaming industry. The Random Number Generators used in Betsoft games are independently tested and certified by leading independent auditor Technical Systems Testing, so any New Zealand online casino gamers using a Betsoft-powered casino can be reassured that the games are fair.
Betsoft Summary
For an online casino software company to thrive in the modern market, they have to offer something distinctive and Betsoft have done just that by putting themselves at the cutting edge of the industry. The stunning 3D graphics used in these games are the equivalent of those you can find in the latest animated Hollywood blockbuster and as a result, Betsoft have attracted a loyal audience of New Zealand gamers who appreciate both the sheer presentational quality and the player-friendly features of these games.