Parlay system
If you are a fan of roulette and are looking to make use of betting strategies, you may want to learn more about the Parlay System. This betting system can be used when playing online and you can use it with many of the game variations found at New Zealand online casino sites. This is known to be one of the easiest betting systems to understand and it can be used by new or experienced gamblers.
The great thing for NZ players is that this is one of the few betting systems that can be used with inside and outside bets. It uses no mathematical approach, which makes it very different from other popular strategies that are often used by real money players.
In essence, this system requires you to just choose how much you wish to bet and how much you wish to receive in payouts. The goal is to get two or more wins in a row, which will provide you the chance to earn profits until your determined target level has been reached.
Reading time: 3 minutes.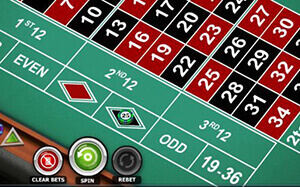 Choose a great NZ casino
About the Parlay Betting System
This is a positive betting system that is quite similar to the Martingale strategy. However, it does not share the same drawbacks. To begin, players will select the size of an initial bet. When this bet is a winner, the bet amount will be increased and this will continue with each win. When a loss occurs, you will return to the original bet amount and start the process over.
When using this system, you should be able to achieve maximum profits. The key is setting a win target, which needs to be done before any wagers are placed. Once you reach this amount, you should leave the roulette game and enjoy the payouts.
For example, if you set a target amount of $200 and bet $20, you will bet $40 on the next game if that initial bet wins. With another win, the bet is increased to $80. The next bet will be $160 if the previous wager wins and if this wins, the player will remove the $200 profit since they have met the target amount. If at any time a loss is incurred, the bet will go back to the starting $20 amount.
The idea of setting a target is you have a stop limit. This means that players can enjoy their profits without rising them by continuing to play the game.
Main Disadvantages of Parlay Betting
Since you will be doubling the bet amount, this system is designed for short term play. If it is used for long-term gambling, it can result in large losses and will pose a high risk to the player. The house edge will not change no matter what betting strategies are being used, so over a period of time, the house will always win, which is why this system is best used for short-term play only.
The other disadvantage is that in order to receive the highest profits, you must achieve consecutive wins. This can be difficult when placing outside bets for even money. However, by placing bets that have higher payouts, you will need fewer consecutive wins to reach your target profit.
As a rule, you should set the target at an amount that would require no more than 3 or 4 wins. The probability of this streak is about 1 in 16, so there are decent chances of it happening during an online roulette session.
You will find that no betting system comes without drawbacks, but with the Parlay system, you will not experience losing bets that are larger in size since any loss will result in placing the original bet amount.