D'Alembert Roulette Strategy
Over the years, many various betting strategies have been used when playing roulette. As a New Zealand player, you may want to become familiar with some of these if you plan to play roulette for money online. One of the more popular strategies that is seen being used is the D'Alembert strategy. This is a safe betting system to use as it has a smaller rate than the popular Martingale strategy.
With the D'Alembert option, you are using an even chance betting system, so it can be used when you place any bet on the table that has even odds. This includes 1-18/19-36, Red/Black, and Odd/Even. Based on the math and theory used when developing this system, it is not a suitable option for betting on columns, dozens, or when placing inside bets.
Reading time: 3 minutes.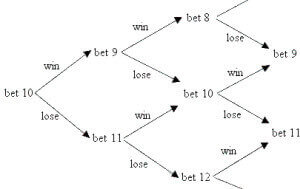 Choose a great NZ casino
Using the D'Alembert Strategy
When you make use of this system, you will simply start by choosing your starting bet. You will then increase your bet by one after you lose or decrease the bet by one after a win. In theory, when you have as many wins as you do losses, you will be earning a profit based on the number of bets that have been placed.
Let's say you start with a bet of five and lose. Your next bet would be 6. If this also loses, you will bet 7. Should this bet win, your next bet is 6. If this loses, you bet 7 and if you win, you bet 6 again. If the 6 bet wins, you bet five and if you lose, you are back to betting six. Based on this example, you have won four bets and lost four bets, but you are profiting by 4.
D'Alembert Advantages
While there are no truly safe roulette strategies that can be used, this is definitely one of the safest. You only need a small bankroll to make use of the system and you will have smaller losses over time. The system is also very easy to use and does not make use of any complicated systems like the Fibonacci system.
Another advantage of this system is that it helps to keep bets on t eh low side. This prevents the possibility of meeting or surpassing table maximum limits that may be in place. While the system cannot guarantee wins, it is one of the low-risk options if you prefer to use any type of betting strategy when playing online roulette games.
Drawbacks to Note
Since this is a low risk betting system the potential payouts are also on the low side. You will be relying on winning just as many bets as you lose. Unfortunately, this rarely happens. No matter what betting system you make use of, the house will always have an advantage when playing online roulette.
You will also find that you may hit a long run of losses and the only way to counter this is to win just as many in a row. This seldom happens, so in the long run, this progressive betting system will cost you more than if you stayed with the same bet amount when you place any wager.
The Reverse D'Alembert System
In addition to the system we have already explained, there is a reverse option that can be used. With this, you will simply do the opposite. You will increase the wager amount after a win and decrease the bet amount after you lose. No matter how you use this betting system, the end result will all depend on how many bets have been won in any sequence.