menu
Keno
Keno has long been one of the most popular games of chance. In fact, it is one of the oldest games of chance in the world; it was already played at the time of the Chinese Empire, but more on that later.
Keno may be popular, but not everyone knows exactly how the game works.
That's why we will explain the rules of Keno in this guide, outline some Keno strategies, and for completeness we'll also briefly cover the history of keno.
We will also provide you with some useful tips and answers to frequently asked questions about Keno later on in the guide.
Estimated reading time: 12 minutes.
Table of contents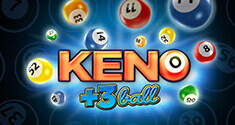 Best online keno casinos
Casino Games

Amount of casino games offered

2050

Jackpot Pokies

Amount of slots with jackpot option

25

18+. New customers only. Minimum deposit NZ$10. T&C apply.

Casino Games

Amount of casino games offered

3200

Jackpot Pokies

Amount of slots with jackpot option

165

18+. New customers only. Minimum deposit NZ$10. T&C apply.

Casino Games

Amount of casino games offered

2000

Jackpot Pokies

Amount of slots with jackpot option

49

18+. New customers only. Minimum deposit NZ$10. T&C apply.

Casino Games

Amount of casino games offered

1450

Jackpot Pokies

Amount of slots with jackpot option

6

18+. New customers only. Minimum deposit NZ$10. T&C apply.

Casino Games

Amount of casino games offered

1600

Jackpot Pokies

Amount of slots with jackpot option

25

18+. New customers only. Minimum deposit NZ$10. T&C apply.

Keno Game Rules
Keno is played with eighty numbers in total of which twenty are drawn each game round. Based on the numbers drawn, it is then determined whether the player wins or loses.
As a player, you decide how many numbers you choose in Keno; a minimum of two and a maximum of ten. Depending on the amount of numbers you choose, you win if one or more of your chosen numbers correspond to the drawn numbers.
Keno Drawing of Numbers
The way the balls are drawn depends on the variation of Keno that is being played. Some Keno games use a machine. Eighty balls numbered 1 to 80 are put into this machine before the draw starts. As soon as the game starts, the machine randomly draws twenty balls.
Alternatively, a bingo reel is used for Keno. In that case, the draw works largely the same as with a machine. The only difference is that it is not automatic. The mill is set in motion by someone, usually a game host, turning the crank. As a result, the twenty balls roll out of the mill one by one.
Finally, a random number generator is also regularly used for Keno. This is a system where the series 1 – 80 is entered before the start of the draw. The system then randomly selects twenty winning numbers and shows them one by one on a display.

Win and Loss in Keno
Keno is all about predicting the right numbers. If you predict one or more numbers correctly, you win. If you have not predicted any of the drawn numbers correctly, you lose your bet.
The more numbers you choose in Keno, the greater the chance that a number will be drawn from your selection. However, there is also a risk in selecting multiple numbers. After all, the chance that you get your entire selection right is considerably smaller. In addition, you have to have a relatively large number of numbers correct when you choose ten numbers in Keno in order to be profitable.
If you choose nine or ten numbers at Keno and no number is drawn from your selection, you will receive a consolation prize in the form of a free entry. With zero correct numbers and nine selected numbers you will receive your bet per number once, with ten numbers you will even receive twice your bet per number, even though you haven't predicted any number correctly.
In the following table you can see how many numbers you have to correctly predict on Keno to win a prize. This Keno payout table may vary across different providers and online Keno variants.
Nuber of player numbers→

↓Number of correct numbers

1

2

3

4

5

6

7

8

9

10

10

300,000x

9

100,000x

4,000x

8

20,000x

2,000x

200x

7

2,000x

200x

100x

20x

6

1,000x

100x

20x

8x

5x

5

200x

20x

10x

8x

2x

2x

4

20x

8x

5x

2x

2x

1x

1x

3

16x

5x

2x

1x

1x

2

5x

2x

1x

1

2x

0

1x

2x

Chances of Winning→

1 in 4

1 in 2,27

1 in 6,55

1 in 3,86

1 in 3,09

1 in 6,19

1 in 4,23

1 in 9,77

1 in 4,61

1 in 3,88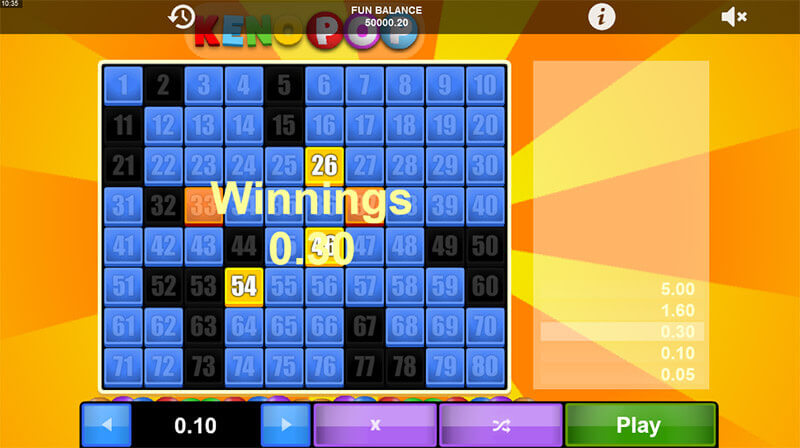 A game of "Keno Pop" at SpinYoo casino.

Keno Payouts
Keno works with a multiplier. You will be paid a certain number of times your bet if you have correctly predicted the numbers drawn by the host or the Keno machine. The height of this multiplier is determined by two factors:
- The number of numbers played.
- The number of numbers you correctly predicted.
When you have correctly predicted two of the four numbers at Keno, you win your bet per number once.If you have predicted eight numbers of which six turn out to be correct, you win twenty times your bet.
The more numbers you choose before the start of the Keno draw, the higher the multiplier and therefore your possible winnings. At online Keno, you can win a maximum of 300,000 times your stake. This is only possible if you choose ten numbers and all ten are drawn.
It is a common misconception that you win immediately at Keno if you predicted a number correctly. For example, if you have two or three correct numbers out of ten selected numbers, you win nothing.
You can also win if you don't get any number correct. This is only the case with a selection of nine or ten numbers. If none of your chosen numbers have been drawn, you win one or two times your bet at most online Keno variants.

What Does it Cost to Play Keno?
As with many other games of chance, Keno requires you to buy tickets before you can play the game. The price per Keno ticket differs per provider.
If you play Keno at an online casino or on a pokie, the stake per game is often considerably lower than with a traditional Keno lottery. For example, in some casinos or slot machines you can already play Keno for a few cents per ticket.

Keno RTP and Volatility
Your chance of winning at Keno depends on how many numbers you choose. Because the prize also depends on the number of numbers you have chosen and the number of numbers you got right, the calculation for your chance of winning is not easy.
It is easier to look at the payout percentage or Return to Player ratio. In most cases, this is just over 50%. That means that the so-called house edge is huge in this game. The vast majority of the prizes paid out are very low at Keno because very exceptionally a huge prize is paid out if someone has been very lucky. This means that the variance or volatility of Keno is huge.

Differences Between Keno and Bingo
Keno and bingo are both games of chance where numbers are drawn, but there are a few essential differences between the two. Despite the fact that Bingo and Keno are played with almost the same number of numbers, Bingo does not allow you to choose numbers on your card, which is possible with Keno.
At Bingo you oftenly buy a card with 24 numbers. These are random numbers from the range 1 -75 or 1 - 90, depending on the type of online Bingo played. In Keno you can choose your own numbers.

Differences Keno and Lotto
Keno is not only often confused with bingo, but also with Lotto. The comparison between Keno and the Lotto is more logical than the one between Keno and bingo, because both Keno and the Lotto allow you to choose your own numbers. Yet again, the two games are fundamentally different from each other.
­- Keno is often cheaper than playing the Lotto.
- With most lotteries, as a player you choose a standard number of numbers. In the New Zealand National Lotto there are six as standard and one bonus ball. With Keno, you determine yourself how many numbers you choose.
- A draw of Keno often takes place daily. In an (online) casino, numbers are drawn several times a day or even hour. Most lotteries often only draw their numbers once, twice, or three times a week.
- With Keno you know where you stand faster than with the Lotto. In New Zealand, a lotto draw takes place daily, namely at 6 pm.

Keno Strategies
Keno is a game of chance that is all about luck. From a total of 80 numbers you have to choose two to ten numbers. A total of twenty numbers are drawn in a draw. Since all numbers are drawn completely random, you cannot influence the outcome of the game.
Although some Keno players argue differently, you cannot find a certain pattern after a number of draws. This also means that there is no strategy for Keno. You just have to be lucky that several of your chosen numbers are drawn. It makes no sense to pay attention to the numbers drawn in several consecutive draws.
Example: If the number 37 has not been drawn for ten draws in a row, this does not mean that there is an increased chance that 37 will be drawn on the eleventh draw. It may take up to ten more draws before 37 is one of the numbers drawn.

Keno Tips
If you want to win at Keno, you have to be lucky. As we mentioned above, you cannot apply a strategy to increase your chances of winning. Despite this, there are a number of tips that will come in handy when playing Keno. We list five tips for (online) Keno here.
1. Choose Your Lucky Numbers
Many people who play Keno find it difficult to choose numbers. This is not surprising, because you can choose from a total of eighty different numbers. If you find it difficult to choose, choose your favorite numbers. For example, choose your birthday. Family members' birthdays can also help you choose numbers in Keno.
2. Decide in Advance How Many Numbers You Want to Choose
You can decide to choose only two numbers in Keno, but it is also possible to predict ten. This means that you have quite a few options. To avoid doubts, it is wise to determine in advance how many numbers you want to choose instead of doing this on the fly when playing (online) Keno.
3. Make Sure You Know the Rules of the Game
One of the most important Keno tips is to know the rules of the game. Some people think they already win when they get one number right, but that is often not the case. Therefore, always first delve into the winning possibilities at Keno. In most variants of this game you win in the same ways, but there may be differences. So always check when you win before selecting numbers.
In online Keno, you can click the 'Information' button in the lower left or right corner of your screen to receive a detailed overview of the game rules.
4. Start With a Low Ticket Price
You can play Keno for a few cents but also for NZ$20 and more per game round. To prevent you from immediately suffering large losses, we recommend that you start with low ticket prices. In this way you slowly but surely learn more and more about Keno without losing a lot of money.
5. Don't Get Lost in the Game
Like all games of chance, Keno can be addictive. You can play Keno for a relatively low amount, but because there are so many daily draws at online casinos, it can really add up if you play regularly.
It is important that you do not lose yourself in the game. After all, it has to be fun. Therefore, do not play the game every day, but for example once a week or a few times a month. This prevents you from losing large amounts of money and becoming addicted.
If you think you may be at risk of a gambling problem, visit our Responsible Gaming page.

The History of Keno
The name Keno comes from French or Latin, but the game does not originate there. We mentioned at the beginning of this guide that Keno was originally played in the Chinese Empire. Keno is said to have originated during the Han dynasty, around 200 BC.
According to legend, the Han dynasty was engaged in a long and hard war at the time. As a result of this war, the money of the Chinese city slowly but surely ran out. Cheung Leung, the leader of the dynasty, was unable to get any more money from his inhabitants, as he had already taxed them to the maximum. In order to make money, he invented the game Keno.
In principle, the game of chance was therefore used to finance the war of the Han dynasty. It didn't stop there, because Keno was also an important fundraiser in later years. According to legend, the game of chance was also used to raise money for the construction of the Great Wall of China.
Whether these legends are indeed based on the truth cannot be said with certainty. According to historical data, the Chinese lottery did not have a license to offer the game of chance until the nineteenth century.
120 Characters Instead of 80 Numbers
Keno was played in a different way back then than it is today. For example, players could not choose from eighty numbers, but from 120 Chinese characters. This number has now also been reduced to eighty in China, but Chinese characters are still used instead of numbers.
Although Keno was played in China in the early 1900s, it was not until the early twentieth century that the game spread around the world. Sailors from China promoted the game in San Francisco at the time. From here, the game quickly spread across the United States and Europe. However, the Chinese characters were immediately changed into numbers.
In its early years, Keno was known as "Racehorse Keno" in some parts of the United States, including Nevada. This is because lottery games were forbidden and Keno was seen as such a game. As a result, it was allowed to offer Keno legally. The eighty numbers on the card were linked to race horses and a draw was still called a race at the time.
Once lotteries became legal in the United States, most of the casinos that offered the game changed the name back to Keno. However, there are still a number of (online) casinos today where it is possible to play 'Racehorse Keno'.

Frequently asked questions about Keno
Does New Zealand have Keno?
Yes, New Zealand has four national Keno draws per day. Lines start at $1 and players can win up to $250,000.
What is the best way to play Keno?
Many gambling experts agree that the best way to play Keno is to pick between four and eight numbers. As we've listed in the table above, this range offers you the best odds while still providing very solid payouts.
How to play Keno 3 6 9?
You play Keno 3 6 9 by picking three pick-3 cards, all with different picks. The game then automatically combines all three ways to combine two of the three cards and plays them as three pick-6 cards, plus one pick-9 game consisting of the numbers picked on the initial three cards.
Author: Amelia Smith
Last updated 06/12/2022 - Article published 13/06/2021