Casino Gambling Without Bonuses
While many casinos will use a bonus to attract a new player to the site, it is possible to play at a casino without having to redeem any offer. Casino bonuses are a great way to earn free cash and free spins, but they are not always beneficial. If you are a new player that is just getting started at a casino site, you may want to skip the bonus at first. A number of top rated sites for New Zealand players will offer a huge assortment of games that can be played for free. While you may not generate payouts from these, they do provide the perfect way to learn your way around a site and prepare for a real money gambling experience.
Reading time: 5 minutes.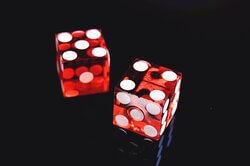 The Pitfalls of Bonuses
Bonuses often advertise free cash that can be used to play games, but they seldom highlight the fine print that is included. Each bonus that is found at an online casino site will have strict terms and conditions that are in place. It is essential that you read these before taking advantage of any offer. One of the main drawbacks to redeeming a casino bonus is the high wagering requirements.
Some offers will have requirements that are so high, making the bonus worthless in the end. In this case, you will be better overlooking the initial welcome bonus and just playing with funds you have deposited or playing free games for a casual experience.
Bonuses also have maximum values. This means you can oy win a certain amount when using the bonus money to place wagers. If you are playing a slot with bonus funds and you hit a base game jackpot, it is quite possible you will not receive the full payout due to the limitations in place from the bonus offer. This is another reason why you may want to consider not redeeming a welcome bonus when you first sign up at an online casino.
Many new members at casino sites will also not realize that bonuses cannot be used on all games. They may redeem an offer and go to play their preferred game, only to learn they cannot place wagers using bonus funds. In most cases, bonuses are designed for play on slots and instant win scratch cards. Some may also be used on table and card games. However, the majority of bonuses featured will not be valid for playing live dealer games, so if you are looking to engage in these types of games, be aware of the bonus restrictions.
The easiest way to avoid any pitfalls with casino bonuses is to avoid using them altogether. You may at first think you are losing out on free money, but in the long run, bonuses can actually cost more than they are worth, so you are better off playing with funds you have added to your account.
Free Bonuses are Not Free
A number of online casinos will promote a free no deposit bonus, making you think you can sign up and get free money from the site. No online casino will give away money. There will always be fine print and restrictions that are in place. While a no deposit bonus is a nice way to get started, you should be aware that it will cost you in the long run. However, there is a way to benefit from this offer without losing any of your own money.
No deposit bonuses will add a small amount of free money to your account when you sign up. You are not required to make any deposit. You can use the provided funds to place wagers on real money games. These may generate payouts, and if you do win and want to remove those winnings, this is where you will have to pay. Withdrawing bonus winnings will require meeting wagering requirements, so you have to deposit and bet a certain amount, making the bonus not free at all. On the other hand, you can simply use this bonus to see how real money games work. If you lose, you are under no obligation to the site and can choose to continue playing or you can find another online casino that better meets your needs.
Play without Bonuses for Freedom
When you are choosing an online casino, you will be better off focusing on the games and loyalty programs in place instead of the supported bonuses and promotions. As mentioned above, each bonus will have restrictions and wagering requirements, and in some cases, these can be hard to meet without spending more than you want. Casino bonuses can be rewarding, but they are not always the best choice for any beginner gambler.
The great thing about the newer online casinos that have entered the industry is that they offer free play games. Almost every game that is supported can be played in a demo mode, where you can take all the time you want to learn game rules, develop strategies, or just play for fun. If you do decide to place wagers on games you enjoy, there is no need to redeem a bonus. You are free to make a deposit that suits your budget and simply place wagers using those funds.
As you win more and become more experienced, you may want to use some casino bonuses, but before you do, always be aware of the wagering requirements and the maximum payout value of the offer so you can be prepared and have the best possible gambling experience.