menu
Prezzy card casinos
Not everyone has a credit card issued by their bank, Visa, MasterCard, American Express, or any other credit card company. Luckily, there's Prezzy, a company that issues prepaid credit cards that can be used by any (online) store that accepts Visa or MasterCard, including online casinos. You can buy Prezzy cards online and in-store at various retailers such as Countdown.
In this guide, we will highlight the best Prezzy Card online casinos available to Kiwi players, discuss the pros and cons of using Prezzy as a payment method at online casinos, and provide you with some tricks and tricks regarding the use of prepaid credit cards at gambling websites.
Please note that gambling sites don't show the Prezzy logo, just click the Visa or Mastercard deposit option and fill in your details.
Estimated reading time: 12 minutes.
Table of contents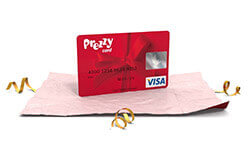 NZ casinos that accept Prezzy Card
Casino Games

Amount of casino games offered

2050

Jackpot Pokies

Amount of slots with jackpot option

25

18+. New customers only. Minimum deposit NZ$10. T&C apply.

Casino Games

Amount of casino games offered

3200

Jackpot Pokies

Amount of slots with jackpot option

165

18+. New customers only. Minimum deposit NZ$10. T&C apply.

Casino Games

Amount of casino games offered

2000

Jackpot Pokies

Amount of slots with jackpot option

49

18+. New customers only. Minimum deposit NZ$10. T&C apply.

Casino Games

Amount of casino games offered

1450

Jackpot Pokies

Amount of slots with jackpot option

6

18+. New customers only. Minimum deposit NZ$10. T&C apply.

Casino Games

Amount of casino games offered

1600

Jackpot Pokies

Amount of slots with jackpot option

25

18+. New customers only. Minimum deposit NZ$10. T&C apply.

The benefits of Prezzy prepaid credit cards
Prezzy prepaid Visa and MasterCard credit cards offer advantages when used at online casinos. First, you will enjoy the same deposit and withdrawal limits as regular Visa and Mastercard credit cards. That is because Prezzy Card casinos treat these cards the same.
Additionally, the Prezzy card is safer than regular credit cards, as they only have a set balance. You won't link your regular credit card to your online casino account. Hence, the tendency to deposit more than initially intended is eliminated.
Another advantage of using a Prezzy prepaid credit card is account security. Threats like keylogger malware or a rogue casino have access to the prepaid credit card only. Your bank account remains untouched since the card is not linked to your account like a regular Visa or Mastercard.
Prezzy cards can prevent recurring payments on online purchases, including at casinos. They cannot be reloaded. Hence, there is only one card balance you can preload and deposit into your gaming account or make the purchase online.

Using Prezzy cards at NZ online casinos
Using Prezzy prepaid cards at New Zealand-focused online casinos is straightforward. You simply sign up for an account and navigate to the cashier area. Then, select either Visa or Mastercard as the deposit method (depending on what type of Prezzy card you have).
Enter the amount you want to deposit and fill in the Prezzy card details (16 digits and CVV code). There shouldn't be any challenges if you have enough balance on your Prezzy card. The funds will be deducted from your Prezzy card and added to your casino account balance.
Any bonus you're eligible for will also be automatically applied to the deposit and added to your balance. Using Prezzy prepaid credit cards at NZ online casinos boils down to:
Check whether the casino is licensed
The last thing you want is to land a big win at a rogue or scam Prezzy Card casino. Unlicensed casinos can offer players ''fake games'' with altered return-to-player ratios and hit rates and find excuses not to pay out winners. For this reason, it is of utmost importance that you only play at licensed casinos.
Luckily, all NZ casinos we recommend to our visitors have valid gaming licenses. These licenses come from the Malta Gaming Authority, the Kahnawake Gaming Commission, the UK Gambling Commission, or the Government of Curacao.
You can check whether an online casino operator is licensed. Scroll to the website's footer or check the "About Us" page.
Make sure the casino accepts Prezzy card deposits
Visit the casino's website, navigate to its cashier or banking options page, or scroll down its homepage. Then, double-check for the Visa or Mastercard logos to ensure the casino accepts your desired payment method. You can contact the customer service representative if you still need clarification.
Sign up for a casino account
Prezzy cards will work in casinos that accept Visa payments or Mastercard transactions. Once confirmed, proceed to open an account. That will allow you to deposit funds with your Prezzy card, except it is a Pay 'n Play casino.
Click on any of the casino website's 'Register' or 'Sign Up' buttons and follow the on-screen instructions to set up your account.
Fund Your Account
Deposit money into your gaming account to complete the process and prepare for the casino games. You can load everything on your Prezzy prepaid card into your casino account or a part of it.

How to withdraw funds from online casinos with Prezzy cards
We wish we could tell you otherwise, but you cannot withdraw your winnings from an online casino to your Prezzy card. Prezzy prepaid cards, whether Visa or MasterCard, can only be used to make deposits.

Pros and Cons of Using Prezzy at Online Casinos
| Advantages of Using Prezzy Card as Deposit Method | Disadvantages of Using Prezzy Card as Deposit Method |
| --- | --- |
| Allows you to set limits for yourself more easily (compared to linking your credit card to your casino account) | Cannot be used as withdrawal method |
| Safe, secure, and reliable payment method | Each Prezzy card has a limit of maximum NZ$1,000 |
| Can be used at Visa and MasterCard casinos | All funds on the card will be forfeited when the card expires |
| Can be bought in NZ$, both online and at local retailers | |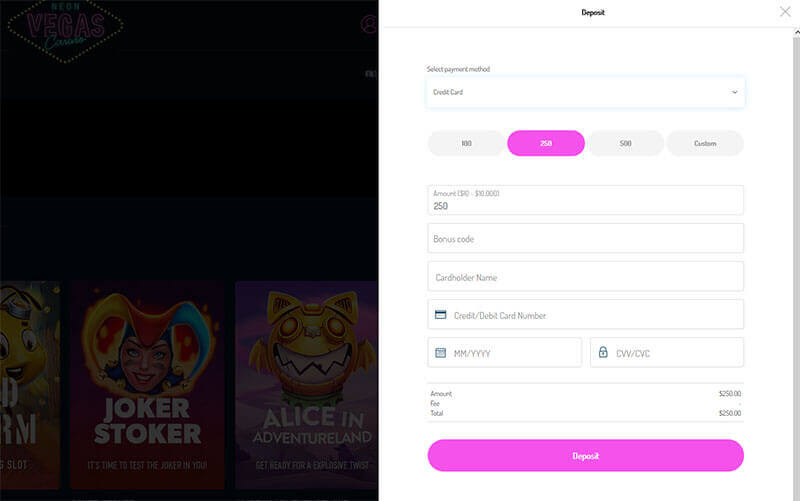 How a credit/debit card (Prezzy)deposit shows at Neon Vegas casino.

What to look for in a Prezzy card casinos
Many online casinos are accepting Prezzy card payments. The growing popularity of the payment method has cooked up another challenge. How do you tell which NZ online casino is worth your time and money?
We outlined some essential criteria to help you pick the best New Zealand casinos that accept Prezzy cards. They include the following:
Bonuses
If you're just as big a casino fan as our experts, you'd expect deals like free spins and match bonuses. We highly recommend only playing at online casinos that offer generous bonuses and decent play-through terms. They should also support Prezzy prepaid cards as eligible for such bonuses.
Review the bonus terms and conditions to see which payment methods are excluded. If the casino supports Prezzy cards and they are not excluded from the deals, you are good to go.
Game Selection
Playing in a Prezzy online casino with a small game selection can lead to boredom in no time. Hence, you should opt for a large selection with a spicy variety, from classic casino games to modern titles. Slot machines with free spins can increase your winning chances.
Table games like Blackjack, Roulette, and Baccarat should also be on your radar. The more variants you have, your gaming sessions will be more exciting.
Fortunately, gambling sites allow unregistered players access to their game lobbies. Review it and ensure the variety is enough for you. Also, look for your favorite games and ensure they are available.
Casino Cashier Policy
Checking out a casino's cashier policy thoroughly before depositing is essential. You want to make sure your preferred payment method is available. Additionally, withdrawals should be quick.
Review the cashier policy to see if the merchant requires identity verification before accepting deposits. Account verifications before withdrawals are common. Hence, find out which documents are required to verify and clear you for withdrawals.
Another cashier policy worth reviewing is the minimum and maximum deposits allowed. The best online casinos in New Zealand may not necessarily be the most affordable. They might have better bonuses but require a higher deposit.
Pick the Prezzy Card casino that accommodates your budget. While at it, consider the withdrawal policy, including the minimum and maximum withdrawals.
Mobile-friendliness
Today's gaming age places enormous expectations on the mobile-friendliness of Prezzy Card casinos. Luckily, most Prezzy Card casinos available to Kiwi players have developed and launched mobile websites. However, some Prezzy Card casinos don't have their own app but remain accessible through the browser on your mobile device.
You can test the mobile platforms. Load the gambling site and watch its responsiveness and loading times. Then, you can play games and see how smoothly they run.
Some of the most popular mobile casino games among Kiwi players as of writing this best Prezzy card online casino guide are:
Starburst Touch
Jammin' Jars 2
Ice Breaker
Remember Gulag
Consider the navigation and text legibility. The buttons should be well-placed and large enough for easy taps. Our recommended New Zealand casinos have robust mobile platforms for gaming on the go.
Other functions should be smooth, like depositing, withdrawing, customer support, etc. Test the ones available to unregistered players.
Customer Service Quality
We don't want you knocking at the customer support door every hour of gaming. However, you might need clarification or solutions to specific challenges that can only be resolved on the casino's end. Common challenges revolve around account creation and verification, depositing, withdrawing, activating bonuses, etc.
You can also encounter challenges when using your Prezzy card at online casinos for financial transactions. Hence, your chosen Prezzy casinos should have responsive customer service.
Popular online casinos often offer live chat and email support. They can be available 24/7 or for select hours of the day. While we prefer 24/7 support, competent customer service is better.
The representative should be efficient in dealing with our challenges. We could encounter challenges in online gambling transactions, like trying to withdraw money. Foreign currency transactions are also susceptible to problems, especially with fluctuating exchange rates.
We recommend reading our honest and unbiased casino reviews. They contain our detailed experience with the quality of customer service. Alternatively, test the service by messaging in live chat or email.
Merchant Fees
Visa and Mastercard payments are secure and efficient for online transactions. Most casinos support them and other payment methods. They may accept Prezzy but charge a credit card convenience fee.
That is because they regard Prezzy as an alternative payment method to their primary credit cards (Visa and Mastercard). Review other processing fees for deposits and withdrawals.
Overall Offering
Other essential things to consider on New Zealand Prezzy Card online gaming sites include:
The user interface of the Prezzy card online casino
The number of mobile-compatible games
The availability of a search option and filters
The design and color theme
The game providers
How the games are categorized
You can also review the bet sizes allowed. That will influence your winnings. The availability of responsible betting tools is also essential.
Responsible gaming tools can help you stick to your budget and maintain discipline. Backed up with the Prezzy prepaid card, you can easily stick to limits.

How to get a Prezzy card
You can buy Prezzy cards online and in-store at retailers like Countdown. Even so, ordering it from the Prezzy Card website is the most convenient approach.
These are the steps to order your Prezzy card in New Zealand:
How to Use a Prezzy Card for Online Gambling
Visit the Official Website

:

Go to the official Prezzy card website.

Choose a Card Type

:

Click "Buy Now" on the variant you want (either Visa Prezzy card or Mastercard).

Complete Purchase

:

Complete the transaction and wait for delivery.

Unlock Your Card

:

Enter the four-digit number you selected when purchasing. Unlock online or use the telephone service. Online unlocking is free, phone service may have a charge.

Register the Card

:

Register the card to boost security and for transaction disputes.

Load Funds

:

Load between $25 to $1,000. Check balance online for free or with a fee via phone.

Use for Online Gambling

:

Use the loaded card for online gambling.

Enter Card Details

:

Provide the expiry date, card number, and the 3-digit CVV2 code when funding your gaming account.

Use In-Store

:

For in-store purchases, press credit and sign the receipt. No PIN required.

The best Prezzy card alternatives
Now that you've read our best Prezzy Card online casinos in New Zealand guide, let's wrap up the alternative payment methods. Below, we will briefly highlight the most common Prezzy Card alternatives for Kiwi players.
Credit Cards: Although this might sound obvious, you could use your real Visa, MasterCard, or American Express credit card to make deposits. You will benefit from decent deposit limits. In addition, you can connect your credit card to your casino account.
E-wallets like PayPal, Neteller, and Skrill allow you to deposit (and most of the time withdraw) funds directly to and from your account. From your e-wallet, you can send funds to other users and request a withdrawal by bank wire transfer.
E-vouchers: You can get vouchers to fund your gaming account. These are available in select stores. All you need to do is enter the 16-digit PIN on the voucher.
Cryptocurrencies: Kiwi players can access some modern online casinos that accept cryptocurrency deposits. These sites allow players to deposit, sometimes play, and withdraw in Bitcoin, Litecoin, Ethereum, and other digital assets.

Conclusion
The main advantage of using Prezzy cards is that you don't have to use your credit or debit card. Additionally, you can load the card with the exact amount you want to load into your gaming account. This prevents you from making more deposits than you initially planned.
Read our reviews of the best Prezzy card casinos to learn more about them. Then, you can grab the best bonuses and play your favorite games online.
Are Prezzy Card Casinos legit?
Yes, most online casinos that accept Prezzy Card Visa and Mastercard deposits are legit. These payment processing companies dislike working with untrustworthy and unreliable casinos. However, we always recommend doing your research and checking whether an online casino is licensed before registering or making any deposit.
Where to buy Prezzy Cards?
As a New Zealand resident, you can buy Prezzy Cards at your local BP, Caltex, Mobil, ZEnergy, Countdown, FreshChoice, etc. Other outlets are New World, FourSquare, PaknSave, the Warehouse, Supervalue, Warehouse Stationery, PaperPlus, and Life Pharmacy.
What different types of Prezzy Cards are available?
Wanaka Tree, Kiwi Bach, Celebrations, Business, and normal Prezzy Cards are available with values ranging from NZ$25 to NZ$1,000.
Does a Prezzy Card have to be registered in the same name to deposit at an online casino?
Yes, the Prezzy Card details must match the personal details filled in at the online casino in order for a Prezzy Card deposit to work.
What are the Prezzy Card deposit limits at NZ online casinos?
Online casinos see Prezzy Card deposits as regular credit card deposits. However, Prezzy Cards themselves have a limit of NZ$1,000 each.
Author: Amelia Smith
Last updated 17/10/2023 - Article published 03/03/2021