menu
Blackhawk NY approval for Online Betting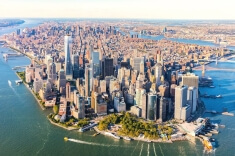 The Blackhawk network has been awarded the right by the New York Gambling Commission, in addition to the Louisianna to offer its payments services to iGaming firms in both states.
As well as this, the company also offers a sports betting gift card that is partnered with a number of sports betting operators that are licenced to be in both states.
This card allows customers to efficiently put money on their card, so that they can use multiple sportsbooks, which provides significant convenience to customers.
Innovation at the heart of Blackhawk
The online gambling industry is no stranger to innovation, and this has become even more widespread since the mass regulation of the US iGaming market, following multiple states approving this activity.
Steve Dekker, who is managing director for Blackhaw, recently revealed his confidence in the gift card initiative for customers in the online sports betting industry, highlighting that customers are always on the lookout for value and differentiation from their experience.
Not just customers but also operators, Blackhawk has recognised that sports betting brands are continuously searching for ways to provide their customers with more options to help increase the quality of their experience.
New York only recently passed online sports betting legislation earlier in the year and, as a result, this has led to a significant amount of confidence about the potential of the market and where this can go in the future.
Due to the number of sports franchises in the state, this has led to multiple sportsbook brands registering their interest in operating in New York, which has been anticipated to break all of the records over the next couple of years.
The card that Blackhawk offers will no doubt appeal to the many millions of potential customers in the state of New York, who are always searching for some kind of value - especially as far as promotions are concerned.
Huge potential in the US market
This could well lead to more states registering their interest in the services that Blackhawk offers and as a result, it may not come as too much of a surprise if more follow suit and approve the business to operate in their respective states.
The US online gambling market has been predicted to become the biggest in the world and every operator is keen to make an impact and challenge to be the best there is for the huge amount of potential customers.
Adding the services that Blackhawk offers to their brand, could well be a contributory factor for this.
Author: Amelia Smith
This news article was published on 12-09-2022