menu
Wynn Casino
Wynn Las Vegas is one of the many luxury resort and casino locations that is located on the Las Vegas Strip. This resort was developed by Steve Wynn and takes up 215 acres of space on the Strip. If you are paying a visit to Vegas, you will surely want to consider the Wynn as your hotel as there are 45 floors and over 2,700 available rooms that range from standard 600 square foot rooms to the most luxurious villas, offering 8,900 square feet of space.
Wynn can be found at 3131 Las Vegas Blvd S, Las Vegas, NV 89109, United States.
Estimated reading time: 2 minutes.
Table of contents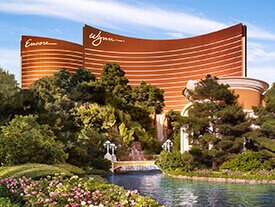 Wynn Casino
This resort has won numerous awards over the years and is known as the top destination in Vegas. Some of the great ratings and awards won include:
- AAA Five Diamond
- Mobile Five Star
- Forbes Five Star
- Michelin Five Star
- Zagat Survey Top US Hotel

Known as one of the finest casino resorts in the world, Wynn offers great accommodations, exciting entertainment, many dining options, and a thrilling gaming floor that will provide you with many great chances to collect massive payouts on some of the most popular games in all of Vegas. This is one of the more modern casino resorts in the city and it opened in 2005.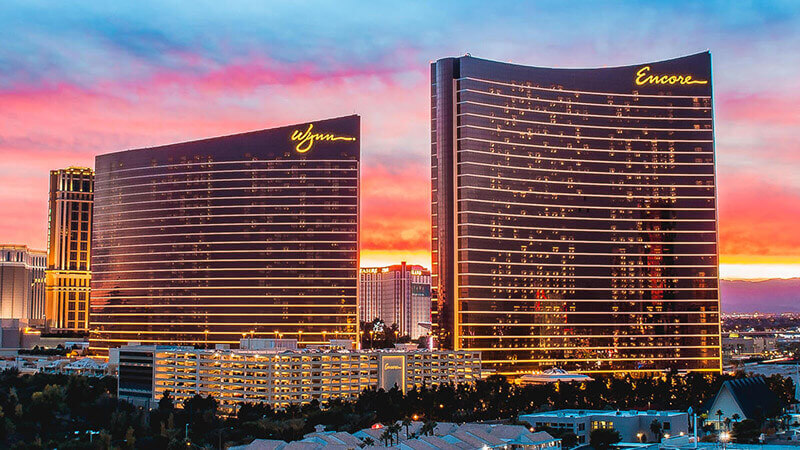 View of the Wynn Las Vegas resort.

Casino Action
While Wynn Las Vegas may be a great resort destination, you will most likely be visiting the venue to access the amazing gaming floor. The casino at Wynn offers thousands of game selections and you will also enjoy special rooms and areas for VIP and High Roller play. The casino floor offers over 2,500 amazing slot machines, which include a mix of three and five-reel games as well as high paying progressive slots.
Table and card games are found on the floor as well and you will find a number of blackjack and roulette tables being offered. There is also a section for Baccarat players as well as a number of poker options. The table games are located on two different gaming floors.
If you are looking for a private poker game or some tournament action, be sure to pay a visit to the Per Room. Here, you will find daily tournaments always being offered as well as individual games. Most of the games played here are Texas Hold Em games, but there are also mixed poker games that are played as well.
To round out the gambling options, there is the Wynn Race and Sports Book. Here, you can place wagers on all types of sporting events and can watch many live games.

Dining Options
Wyn Casino is home to in the state of Nevada and many visitors actually pay a visit to the resort just for the dining options. No matter what you are looking for, you will find it offered at this hotel resort. You can enjoy some light bites with casual dining or you can enjoy multi-course meals at the five-star restaurants that are featured.
Fine dining can be enjoyed at many venues at the resort and these all offer expansive menu options from world-class chefs. These restaurants will satisfy any taste and you will find all types of cuisine being offered. The fine dining establishments that are located at Wynn Las Vegas include:
- Andrea's
- Cipriani
- Costa di Mare
- Lakeside
- Mizumi
- Sinatra
- SW Steak House
- Tableau
- Wing Lei

Not every visitor will be looking for a lengthy evening at the dining rooms, so there are also a number of casual options that are available. These include Allegro, The Buffet, The Café, Charlie's Bar and Grill, Goodies on Demand, Jardin, La Cave, Red 8, Terrace Pointe Café, Urth Café, and Wazuzu.
The Buffet is one of the more popular choices for casual dining and here, you will find 16 live cooking stations and over 365 unique dishes to enjoy. These include quality meets, special dishes, desserts, appetizers, and so much more The Buffet offers breakfast, lunch, and dinner and the pricing is affordable, making this a top choice for gamblers who are looking to grab a bite between playing their favorite games on the casino floor.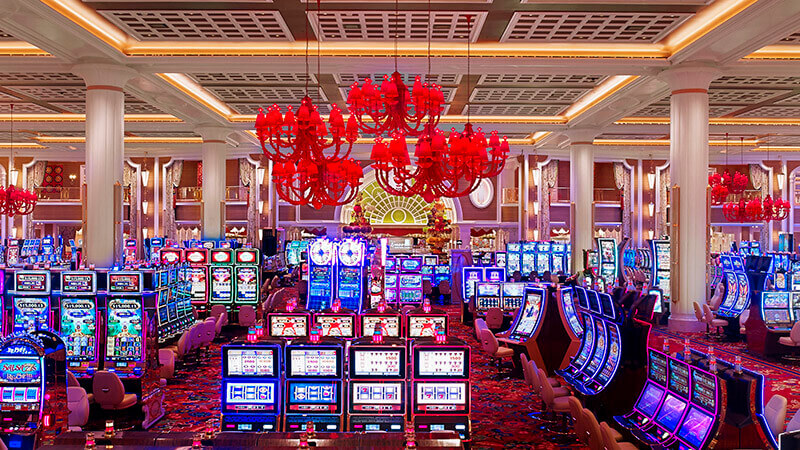 View of the Wynn Las Vegas gaming floor.

Wynn Entertainment
Wynn Las Vegas not only offers exceptional gaming and dining options, but you can also enjoy great entertainment while staying at the hotel or paying a visit to the casino. There is always a full schedule of events that can include concerts, Broadway shows, comedy shows, and live music at the smaller clubs and pubs in the hotel. If you are looking to catch a live music concert, some of the performers that frequent Wynn include John Fogerty, Sarah McLachlan, Seth Meyers, Diana Ross, Drake, Melissa Etheridge, and Lionel Richie.
Lake of Dreams is a main entertainment option for visitors at Wynn and this offers a mix of music and imagery that is creatively displayed by the use of more than four thousand lights, puppetry, and holographic effects. Shows will be available every night starting at 8 pm and they run until 12:30 am. To enjoy the memorable moments of Lake of Dreams, take the escalator from Parasol Up to see the show and enjoy views of the 40-foot waterfall. You can also enjoy seats on the terrace for a water view while enjoying the cuisine from Lakeside or the SW Steakhouse.
If you want a night of action, be sure to check out the many night clubs that are offered by Wynn. These include the Beach Cub, Intrigue Nightclub and the XS Nightclub. These are all perfect locations to party the night away while enjoying the glitz and glamour of the hotel setting.
Author: Amelia Smith
Last updated 20/12/2022 - Article published 27/10/2020