Excalibur
The Excalibur Hotel and Casino is a great gambling destination on the Strip in Las Vegas. Owned and operated by MGM Resorts International, this resort has quickly become a top destination and offers much more than just gambling. The venue was named after the famous sword featured of King Arthur and you will enjoy the medieval theme that is presented. Up until 2007, there was a wizard figure that represented Merlin looking out from one of the turrets. Unfortunately, that has now been replaced and is used as advertising space.
Reading time: 4 minutes.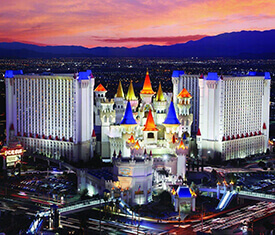 Exciting and Rewarding Gaming at Excalibur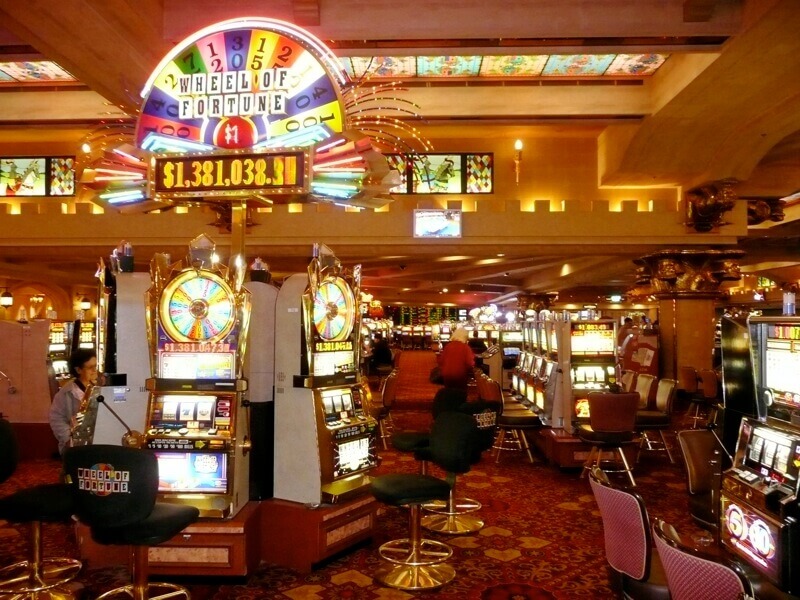 The gambling action is one of the highlights of visiting the Excalibur resort and you will find an impressive gaming floor that offers thousands of games that can deliver huge payouts. No matter what type of casino game you enjoy, you will find something that meets your needs at this leading Vegas casino. With over 100,000 square feet of gaming, you will find a great mix of table games and slot machines.
Here, we take a look at some of the great gambling options you will enjoy with a visit to Excalibur:
- Slots – Whether you enjoy traditional three-reel games or you are seeking the action of the latest video slots, you will find them all at Excalibur. The games that are found on the gaming floor offer bets that start as low as $0.01 per spin and you will even find games that can be played for $100. In addition to being able to select from over 1,000 slot games, you can also benefit from entering amazing tournaments that are held on a regular basis.

- Table and Card Games – You will always find action at the table games at Excalibur and you can enjoy all the casino classics. Here, you will find blackjack, roulette, craps, poker variations, baccarat, and more. Blackjack games start as low as $5 per hand and you can even play games that offer t eh chance to win progressive jackpots. If you are new to playing card and table games, be sure to check out the free daily lessons that are offered, allowing you to take time to learn the rules of poker, craps, roulette, and blackjack.

- Poker Room – The poker room at Excalibur is where the pros play and you will find limit and no-limit Texas Hold'Em being played here. There are promotions available as well as daily tournaments, so there is always great poker action 24 hours a day. There are also free poker lessons offered here.

- Race & Sports Book – If you would rather place some wagers on races and sporting events, be sure to check out the amazing sportsbook that is featured. This is a non-smoking environment that offers pari-mutuel wagers at nationwide racetracks. You can also place all types of sports bets on a wide variety of professional and college sports.


Top Rated Restaurants
There is never a shortage of options when it comes time to enjoy a dining experience at Excalibur. You will find top-notch establishments offering exquisite menu offerings and there are also venues that offer a casual dining experience. You will enjoy items created from some of the best chefs in the country and will always enjoy daily specials and exclusive cocktail offers.
If you like to sample various cuisines, you will find many options being presented. The restaurants at Excalibur offer Asian, America, Italian and Mexican venues as well as a great Steakhouse and seafood options.
One of the top choices is the Buffet, where you can enjoy a wide array of menu options. There is an endless variety of food that is offered and you can also enjoy live cooking stations as well as an interactive dessert station. The Buffet is available daily from 7 am to 10 pm and it is a casual setting with no reservation required.
Some of the other great dining venues you will find at Excalibur include:
- The Food Court
- Camelot Steakhouse
- Dick's Last Resort
- Buca di Beppo
- Johnny Rockets
- Baja Fresh
- Castle Coffee
- Drenched Bar & Grill
- Orange Julius/Dairy Queen

Entertainment Options
Excalibur is not only known for great gambling and amazing dining, but you can also enjoy a variety of entertainment options during your visit. There are live performances at many of the bars and nightclubs and there are also theatres and small lounges that offer a great assortment of entertainment for all visitors. You will even find amazing package deals that offer dinner as well as a show for an affordable price.
Every night there is a Tribute to the Bee Gees and there are also scheduled concerts that are available. You can find comedy clubs, magic shows, art shows, and so much more. Be sure to check the entertainment schedule on a regular basis to learn of all new shows that will be coming to Excalibur and plan your next vacation at this top-rated Vegas resort.
If you are looking to enjoy the nightlife, you can't go wrong with the bars, clubs, and lounges. There are many different venues that offer live music, DJs, dancing, and some of the best cocktails in the city. Check out Mix Tape Mary, House Excalibur, The Lounge, Lobby Bar, Sports Book Bar, and the Sherwood Bar, all offering a great way to enjoy an evening full of music, drinks, and fun.