Weekly Blackjack Marathon for NZ Players of Mr. Green Casino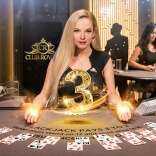 The casino table action just got even better at Mr. Green Casino. If you are a fan of blackjack and you relish every win and solid hand, then this new promotion for players from New Zealand should make you happy. At Mr. Green, NZ players can take part in the 'Weekly Blackjack Marathon'. A promotion hosted for the whole month of July, this campaign will appeal to players who love to play blackjack. Under this new campaign, all customers of Mr. Green who managed to score 20 Blackjacks within the 4-day promotion will win an even share of €2,000 of the prize. In this promotion, winning a share of the prize is simple and made more exciting.
Are you ready to take on the challenge and top the marathon for blackjacks? If yes, then we suggest that you familiarize yourself with this schedule:
Marathon Dates:
Week 1: 1st July 2019 (14:00 CEST) - Friday, 5th July 2019 (04:00 CEST)
Week 2: 8th July 2019 (14:00 CEST) - Friday, 12th July 2019 (04:00 CEST)
Week 3: 15th July 2019 (14:00 CEST) - Friday, 19th July 2019 (04:00 CEST)
Week 4: 22nd July 2019 (14:00 CEST) - Friday, 26th July 2019 (04:00 CEST)
Week 5: 29th July 2019 (14:00 CEST) - Friday, 2nd August 2019 (04:00 CEST)
To participate in this month-long promotion, simply play at any Club Royale Blackjack table offered by Mr. Green.
Other Promotional Details to Keep in Mind
You need to participate in the Club Royale Blackjack tables on the specified days and time of the week. Just play and hit as many blackjacks as possible. If you can win a total of 20 Blackjacks within the 4-day week, you are eligible to earn a share of the €2,000 prize. Once you have reached this number, the system will no longer allow you to re-enter the same marathon.
As part of the promotion, all cash prizes that are given to winners are in real cash which means that these are free from the usual playthrough requirement. In case you end up as one of the winners of this promotion, a notification from the casino will be sent to your account. The prizes that you have collected for the week will be credited to your account within 72 hours after the end of the marathon.
About Club Royale Blackjack
This is a premium section in the casino which will appeal to high rollers and players looking for casino action. Currently, NZ players can participate in exclusive blackjack games from Evolution Gaming and Netent. With Club Royale, you can count on bespoke table games and casino services and promotions suited for VIP players like you.
This is just one of the ongoing promotions at Mr Green Casino for players from New Zealand. Since the promotion runs until the end of July, we highly recommend that you check this promotion. Mr Green Casino is one of the highly rated casinos on our website so you can be sure of fair play and security every time. To learn more about these kinds of promotions, just browse our articles and news entries to learn more.
Written for onlinecasinosrealmoney.co.nz by Adiela de Bruyn on 05-07-2019